Scotchgard Application for Carpet and Upholstery
We reapply Genuine Scotchgard' Products
With so much misinformation out there, we decided to dedicate a page to 3M' Scotchgard'.' Most carpets come from the manufacturer with a protector on them.' Dupont' Teflon' or 3M' Scotchgard'.' Over time, with walking and vacuuming the carpets the protector can wear off of the carpet fibers.' Think of Scotchgard' in the same way as no-stick cookware.' It's a thin layer of material that keeps food from sticking to the pan.' Carpet is the same way.' We can reapply the 3M' Scotchgard' Protection and this thin layer will help to keep soil from sticking to the carpet fiber.
How Carpet Protector Works.
All carpet starts as white and then gets dyed to the various colors.' In the dyeing process, there are microscopic "holes" called dye sites on the fiber strand that for whatever reason, the die does not stick to.' This open part of the fiber and one fiber can have multiple exposed dye sites, is a perfect place for stains to get lodged into.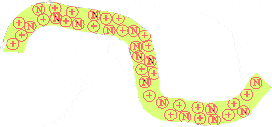 Here is a visual representation of a nylon fiber showing the cationic (positively charged) dye sites: The Plus charges (+), are the available dye sites. The "N" circles are dye sites that have been neutralized with Stain Blocker. The Stain Blocker is negatively charged and neutralizes the positively charged dye sites.
Yellow stains, red stains as well as dirt and soils can lodge into these dye sites and cause a stain.' When 3M' Scotchgard' protector is applied at the factory or reapplied after a steam cleaning, the Scotchgard' fills in these dye sites and block certain stains from binding to and filling in those microscopic holes.' Scotchgard also helps keep the stain and other soils on the surface of the carpet, giving you time to blot it up.' This is the reason Scotchgard' does in fact work if the genuine product is used and it is applied properly.
DFW Steam Cleaning properly applies genuine Scotchgard' protector to your carpets to help not only preserve your investment and life of your carpet but getting your carpets steam cleaned and reapplying Scotchgard also maintains your carpets manufacturer's warranty.'
Dry Cleaning - Bonnet Cleaning Voids your Carpet Warranty
All carpet manufacturers have recommended cleaning instructions for your carpet.' With rare exceptions, manufacturers recommend you clean your carpets using the steam cleaning or hot water extraction process and you have Scotchgard reapplied after the cleaning. 'The following means that Carpet Cleaning by any other process than hot water extraction or steam cleaning, YOUR CARPET WARRANTY IS VOID.
In fact, 3M's own warranty states the following:
What You Must Do: To take advantage of this warranty, you must:
Provide a legible copy of your original carpet purchase receipt, showing the date of purchase. NO CLAIMS WILL BE ACCEPTED WITHOUT ORIGINAL
PROOF OF CARPET PURCHASE.
Notify the Scotchgard Service Center as soon as possible- not later than 5
days ' of any covered stains or problems with soiling. If the stain or area of soiling is not removed with the assistance that we provide, you may file a claim under this warranty by returning the attached claim card with a copy of your dated original carpet purchase receipt to the address below.

Provide proof that your carpet has been hot-water extraction cleaned either by a qualified professional cleaner, at least once every two years, or by using a BISSELL' ProHeat' or ProHeat ProTech' deep cleaning machine and a full-size BISSELL deep cleaning formula with Scotchgard Protector at least once every 12 months from date of carpet purchase. To help protect your carpet, 3M strongly recommends that Scotchgard' Protector be re-applied at least every 24 months.
Proof of care and cleaning requires a dated receipt for professional hot water extraction cleaning or a dated receipt showing purchase of a BISSELL ProHeat or ProHeat Pro-Tech deep cleaning machine and proof of purchase of at least one full-size BISSELL deep cleaning formula with Scotchgard protector every twelve months. Carpet replacements must be performed within 180 days after 3M's authorization or be waived.
The above excerpt was taken directly from 3M's warranty PDF, which you can download directly from our site.
Scotchgard Manufacturer Warranty 10 year Nylon carpet
Scotchgard Manufacturer Warranty 7-year Nylon carpet
Scotchgard Manufacturer Warranty 7-year Olefin carpet
Customers were also interested in